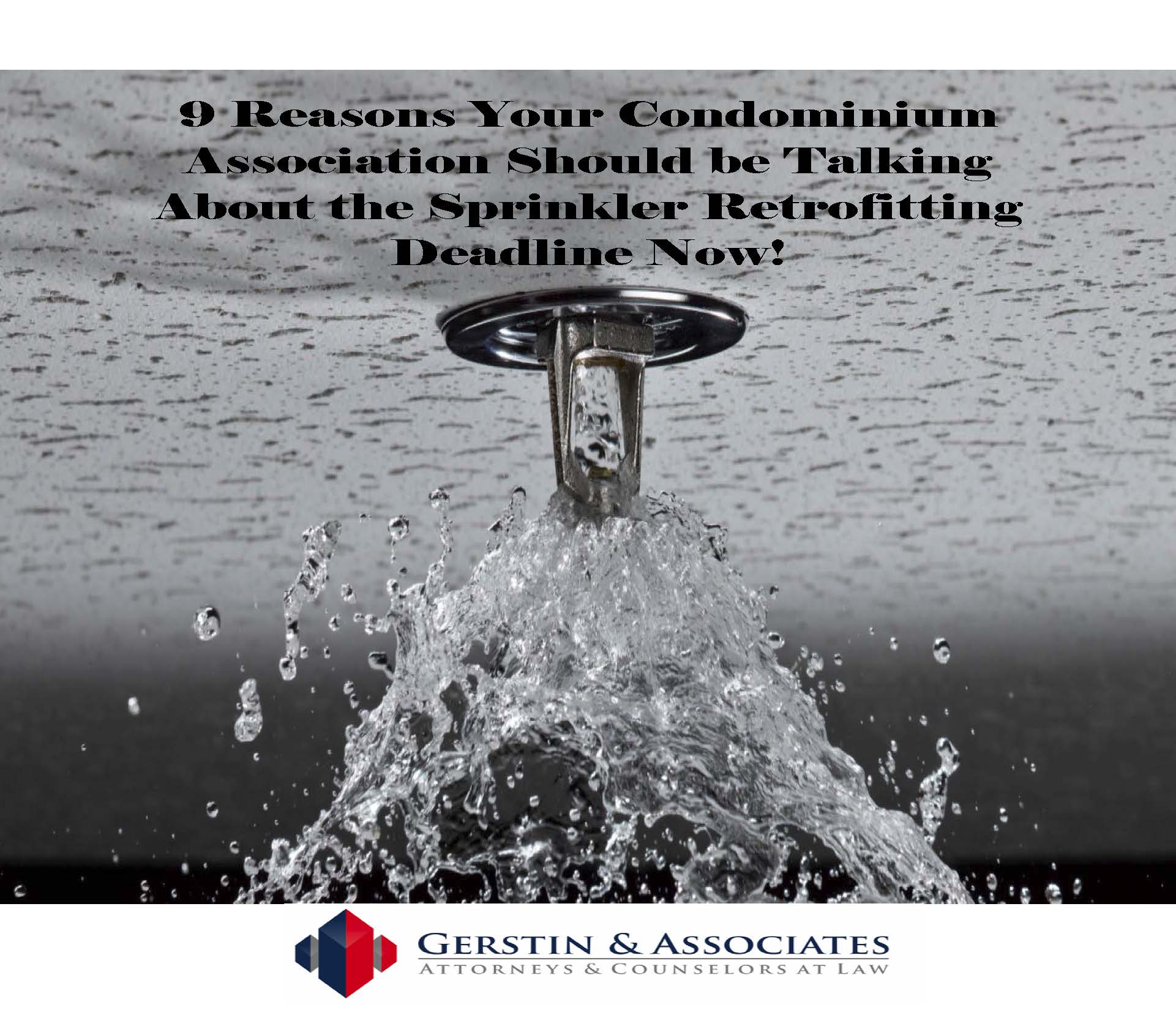 –By Joshua Gerstin, Esq.
Click here for .pdf version of this article
June 1, 2016
1. Time is running out. Condominium associations with more than two floors have until December 31, 2016, to vote on forgoing the State of Florida's mandated sprinkler retrofitting/life safety system requirements or obtain a building permit for its installation.
2. The required retrofitting includes installing a fire sprinkler system or other life safety system within the condominium association's common elements and individual units.
3. By December 31, 2016, a residential condominium association that has not voted to forego retrofitting must initiate an application for a building permit for the required installation demonstrating the association will become compliant by December 31, 2019.
4. If a condominium association wants to opt-out of the retrofitting requirement it must act now and obtain a vote by the majority of all voting interests through either: (1) a limited proxy; (2) a ballot cast at a duly called membership meeting with at least 14 days advance notice; or (3) the execution of a written consent by a member.
5. No later than 30 days after the opt out vote, results must be mailed or hand delivered to all unit owners.
6. An opt-out vote by the members is effective only upon its recording in the county's Official Public Records. A report must be filed with The State of Florida's Division of Condominiums, Timeshares and Mobile Homes, indicating the membership vote and enclosing proof the vote was recorded in the county's Official Public Records.
7. After the recording of a successful opt out vote, all owners are required to provide a copy of the opt-out vote to all future potential purchaser or tenants of their unit.
8. Opting out of fire sprinkler/life safety system retrofitting could pose a major fire hazard, cause an increase in insurance premiums and a decrease in property values.
9. Deciding to forgo fire sprinkler retrofitting should be based on more than the cost of compliance. Local fire departments should be consulted to ensure adequate life-safety protections are in place. At a minimum, a condominium association should consider the following:
a) Does the association have a fire emergency plan? If so, have the residents and employees been given full instructions on the details of the plan?
b) Can the buildings be evacuated to the street without interfering with emergency personnel?
c) How will the association handle the evacuation of physically challenged residents?
d) Are all exit doors and exit ways marked, clear and well lit in the dark?
e) Are emergency items (fire extinguishers, defibrillators, etc.) in place and functional?
Please do not hesitate to contact our office for further information regarding Florida's sprinkler retrofitting requirements for condominium associations.